VIENTRE
≬ Wombs Of The Universe ≬
∙∙∙∙∙∙∙∙∙∙∙∙∙∙∙∙∙
⊹Sacred Women's Shamanic Womb Healing & Jungle Medicine Retreat ⊹
⦿Deep Womb Healing
⦿Jungle Medicine With The Spirit Of Kambo
⦿Full Body, Mind, & Spirit Detoxification
⦿Shamanism
⦿Shamanic Journeying & Meditation
⦿Breathwork
⦿Moon Magic & Cyclical Wisdom
⦿Ancestral Weaving & Healing
⦿Emotional Release & Purge Ceremony
⦿Sacred Beauty Rituals
⦿Flower Baths & Blessings
⦿ Sisterhood

Embark on a true healing journey, back into the womb of the universe. Re-establish your relationship with your womb. Reclaim your sacred feminine power. Find the tools within to heal. Purge what no longer serves. Come together in sisterhood and brew deep magic. Connect our cycles with the cycles of life. Access the medicine woman within.

Are you ready to do the work?
For yourself, each other, and our precious Earth Mother?

∙∙⦁❍JOIN US❍⦁∙∙

August 3rd
Spend one day nestled in beautiful sacred land, on the edge of the wild.
⚘HELD ∙LOVED∙ NURTURED⚘
This is for the grandmothers, the mothers, the sisters, & the daughters in any cycle. We are all a part of the cycles of life no matter what stage of life we are in. We always have a connection to our womb and the womb of the universe. Together we weave the fabric of the ancestors and tie the threads of the great web of life. We are all in this together.

1 Day Retreat Includes: 2 delicious, nourishing, vibrant, organic farm to table meals, fresh plantain water, wild herbal tea, traditional shamanic detox ceremony with kambo & jungle medicines, shamanic womb healing journey, pelvic bowl & womb activation & healing activities & rituals, self care & sustenance practices to nurture positive, proactive transformation, cyclical wisdom & celebration, flower baths & whole body blessings, plant spirit blessings, sacred beauty rituals, shamanista market, sisterhood & magic.
1 day healing Immersion Ticket Price: $555
For inquiries, any questions, & to purchase tickets for this retreat please email gitana.wildbeauty@gmail.com
See below your organic farm to table menu for the retreat. Since we will be sitting in Kambo ceremony and other sacred jungle medicine in ceremony, these are very specific foods & quanties to nourish your bodies, mind, and soul in all the ways necessary ( we will need to make sure to properly fast 12 hours before the retreat begins for our kambo ceremony. Vegan, vegetarian & local organic & free range options will be available.
Organic Farm To Table Menu:
8/3 Lunch: ( After Kambo Session)
Fresh Garden Salad, Baked Tempeh, Local free-range hard-boiled eggs, Herbed Rice, Local copal-steamed homemade sauerkraut
8/3 Dinner:
Nurturing Spinach & Wild Greens Coconut Soup, Gluten-Free Vegan Cornbread
See below for more information on Kambo medicine & ceremony, breathwork, and the two modalities combined for optimum healing results.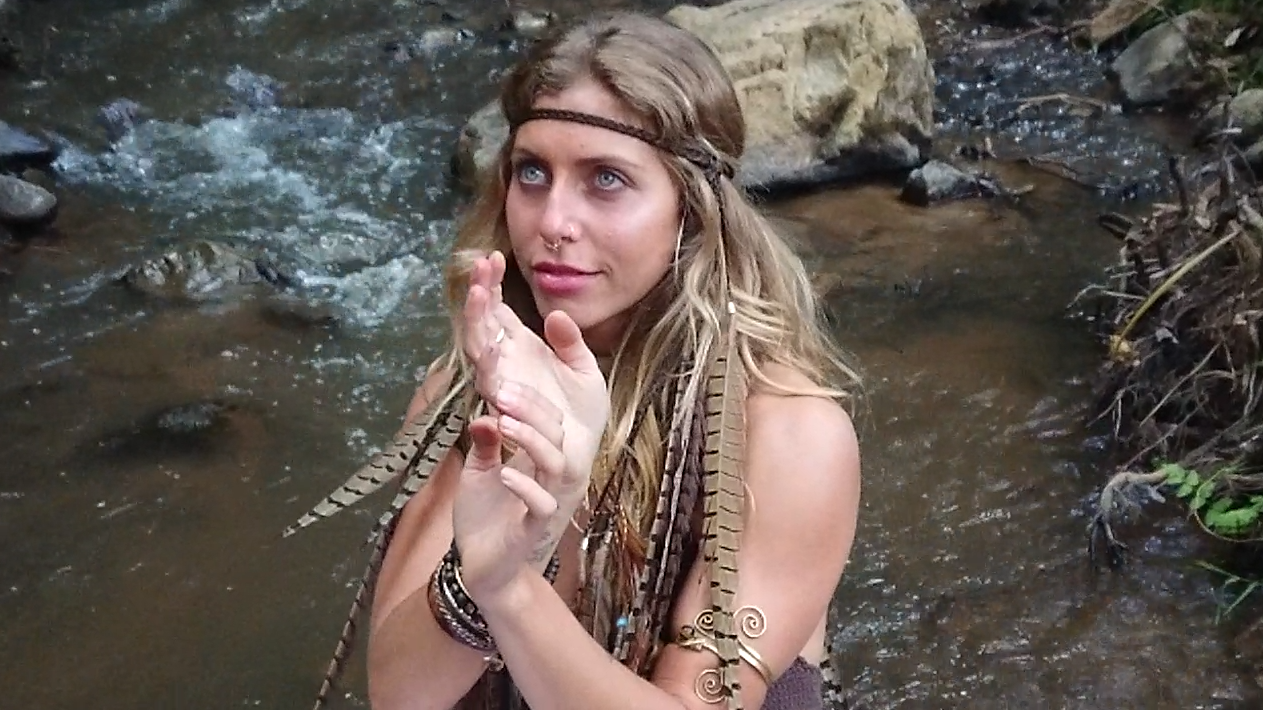 is a holistic health practitioner, licensed esthetician, herbalist, aromatherapist & botanical alchemist, shaman, and spiritual healer. She uses her magic touch to help guide you to awaken your pure, raw, wild essence, open the lense of your heart to see your true inner beauty, feel your connection to the earth, hear the messages needed to guide you on the path of your soul's purpose, and to retreave the parts of your soul that might have been forgotten. She is dedicated to helping people to feel healthy and beautiful inside and out. Megan believes our bodies give us all of the messages needed to heal ourselves, and she can show people how to listen to and understand those messages. Whether someone's struggling with physical ailments, emotional traumas, or simply wants to look and feel beautiful, she delivers the solution they are looking for.
Megan experienced illness and disease at a young age, causing chronic pain, threat to her female organs, and the stripping of joy and nectar of life she knew to exist. This experience propelled her on a deep journey of healing and discovery of the true medicine within. Determined to heal herself, her spirit guided her as she ventured on the quest of soul retrieval and dove deep into shamanic studies and healing. She was able to heal herself of two " incurable" diseases, unraveling her wounds, and uncovering the most nurturing and unconditional love within herself. She was able to find beauty in her pain and light within her darkness, and realized the deeper purpose of her experiences through illness and disease. She transformed from the wounded, to the wounded healer, to the healed. After studying and training with the Four Winds Society Light Body School Of Shamanic Energy Medicine, The Transformational Arts College of Spiritual & Holistic Training in Toronto, Canada, native elders teaching the ancient ways, and the Q'ero nation- the last of the Inka shamans that exist in the Andean mountains of Peru-receiving her Munay Ki rites of passage; The nine great rites of initiation of the medicine way, she felt she was ready to share the medicine path and help others learn the tools within themselves to truly heal.
She is highly trained in advanced energy medicine and spiritual healing modalities such as; reiki, shamanic energy medicine, medical intuition, sound healing with sacred sound resonance, crystal therapy, chakra balancing, energy transfer, aura cleansing, guided imagery meditation, shamanic journeying, soul retrieval, subtle aromatherapy & emotional release techniques, and intuitive readings and guidance with animal medicine.
She is clair-sensient which means that everything comes to her intuitively through sensation and then becomes a visual or message. As a medical intuit, she is able to understand energy anatomy; what is happening in the body at an energetic and emotional level in correspondence with our physical anatomy, vital organs, and bodily systems. She works on being able to decode any ailment, illness, or emotional issue and find the symbolism of the wounds behind the issues. By peeling back those layers and assessing the deeply seeded issues and underlying symbolism, she is able to help her clients release them energetically and remove the blockages in their energy field, in order to shift the physical manifestations at a cellular level. As a result, clients are able to live a more joyful, harmonious, pain-free, and healthy life.
Megan's mission is to create a truly unique, sacred, beautifying, healing, and transformative experience inside and out. By doing so, she will be helping people to feel amazing, beautiful, and empowered, while teaching and guiding the way of the medicine path, to walk in beauty, awaken our spirits' true calling, remember what we have forgotten, and be of service to ourselves, others, and our great Earth mother, to help create a sustainable & thriving future on this planet.
is a guide and mentor in healing and awakening & has been working in the holistic fields of body, mind, & spirit for years. She is the creator of life-changing amazonian retreats, and is very passionate about working with kambo, Tantric Breath and plants medicines from all around the world, with a special interest in Amazonian medicines.

Karen has a life-long deep respect for ancient indigenous medicines, traditions and protocol. Today, she serves hundreds of people internationally, and is a trained and qualified Kambô practitioner, and a member of Kambô Naturista. She is also a Reiki Master, Breathwork Facilitator and Hatha Yoga instructor, as well as the founder of Brighter Living Organics, Brighter Living Healing Center and Brighter Living Animal Sanctuary. Karen also has the privilege of helping teenagers in overcoming trauma and depression.

Karen believes strongly that inspired and compassionate action can create positive and meaningful change in the world. By facilitating sacred amazonian medicine she is helping to introduce life-changing Amazonian medicine experiences for conscious people, working closely with Shipibo curanderos and Matsés Maestros. She is equally passionate about helping to empower the indigenous women of South America, and helping to support their communities through fundraising and educational efforts.

About Kambô:


Sacred kambo circle: Each participant will have the opportunity to receive the sacred medicine in a safe and loving environment. There will be a team of Kambo practitioners on hand to guide you through this healing process .

★ What are the Benefits of Kambo ?
Kambo users have noticed immediate and short-term benefits like enhanced mood, alertness, clarity, focus, energy, an increased resistance to stress, tiredness, hunger and thirst. Long term, kambô empowers the immune system, overcomes fatigue and improves one's state of health.
Outside of the forest, Kambo has been the subject of more than two decades of medical research. Research has shown that Kambo will open up a new world of treatments for many ailments.
The properties of kambô peptides cover a wide range of potential medical uses: treatment of brain diseases such as Alzheimer's and Parkinson's, Depression, Anxiety, Chronic Fatigue Syndrome, Chronic Pain, PTSD, Rheumatism, Fibromyalgia, Arthritis, Migraines, Blood Circulation problems, Vascular Insufficiency, Organ diseases, Skin and Eye Issues, Fertility problems in women and men, AID's, Hepatitis, Cancer, Addictions and much more.
This cleaning effect extends in a holistic way to our entire body. This effect can be compared to a light that opens the roads, helping us overcome the obstacles and freeing up the blockages to the emotional level. These effects can be observed over time, as it improves perception, awakens our intuition, and opens our unconscious connecting with our natural wisdom, which facilitates our transformation into a new consciousness. Chakras are balanced, awakened. An opportunity to connect with the core of who you truly are. Kambo is the great revealer. Hiding from yourself, is not an option.

★ How is Kambo Administered?
Kambo is administrated by burning small "points" or "gates" into the skin. We then apply a small amount of Kambo (small premixed quantity of Kambo secretions and water) on the surface of the skin where we burned the "gates". Immediately triggering a variety of beneficial chemical reactions in the human body. This has the capacity, unlike many other natural and pharmaceutical substances, to cross the blood-brain barrier and to produce its effects on the brain. Human cells are open to the beneficial properties of kambo unlike many substances that are filtered and removed by the highly intelligent defence system of the body.

★ What happens after applying the Kambo dots?
The sacred medicine will begin cleansing by purging from your body anything that no longer serves you on a physical, mental, spiritual and energetic level.

★ Will I hallucinate?
No, Kambo is non-hallucigenetic, although some people do experience visions. and a deep connection with spirit.

★ Can anyone take Kambo ?
No, You must be over 18 years of age and not have any contraindications. Here is a list of the main contraindications:

● Have serious heart problems.
● Are on medication for low blood pressure.
● Have had a stroke.
● Have had a brain hemorrhage.
● Have an aneurysm or blood clots.
● Lack the mental capacity to make the decision to take Kambo.
● Have serious mental health problems excluding depression, PTSD and anxiety.
● Are undergoing chemotherapy, radiotherapy or for 4 weeks afterwards.
● Take immune-suppressants for an organ transplant.
● Have Addison's Disease
● Have current and severe Epilepsy
● Are recovering from a major surgical procedure
● Are under 18 years old
● Are pregnant or maybe so or are breastfeeding a child under 6 months old
● Have taken Bufo Alvarius medicine (5-MeO-DMT) within 28 days

Kambo brings the body back to its original blueprint and natural state of well-being. It is incredible for gaining increased immunity, health, and good luck. It is effective in removing depression and lethargic heavy energy.

About Breathwork:
Breathwork is the art and science of using our conscious intention to alter our breathing for specific purposes. Ancient cultures developed breathing exercises for millennia to induce altered states of consciousness and reach higher levels of consciousness, as well as good mental and physical health. Western medicine reduced it to an important physiological function. The basic practice of working with the breath is rumored to be over 40,000 years old. There are thousands of sequences involving different holding patterns, separated by timed inhalations and exhalations. Each and every method opens portholes to varying levels of non-ordinary consciousness, mental and physical faculties.
Most familiar in the West perhaps are the Yogic Pranayams, which aid the physical, mental and subtle body for preventative disease control and or to prepare for meditation and Stanislav Grof's Holotropic Breath Work, Leonard Orr's Rebirthing, Vivation developed by Jim Leonard and many more variations of Yoga rebranded and labeled as discoveries made and developed by Western Practitioners .
The Breathwork you will experience here is not widely known of or taught in Yoga, Shamanism or as a portion of basic Spiritual Curriculum, but it should be.
Gentle Pranayam methods do not promote hyperventilation or re-traumatization.
A powerful active meditation for self-healing, Breathwork consists of a two-part breathing technique that begins in the belly and moves into the chest, both inhaling and exhaling through the mouth. Through the continued movement of the breath led & guided by instruction, this breath work allows your mind to let go of negative energy and emotional blocks, allowing for your innate happiness and wholeness to come to the surface.


The intentions you set are carried through from within the practice and executed in palpable application in daily life, which deliver immediate and long term results in letting go of emotions and thoughts which no longer serve you.
Kambo & breath work combined :
Tantric Breathwork and the medicine Kambo we will work towards a deep release and clearing.

Kambo is very beneficial for thyroid and hormonal balance. Moreover, this medicine from the Amazon is an incredible 'resetter', not only of the immune system, but also of our 'panema', – depression, grief, negative emotions and trauma – which are stored in our womb and which prevent & block us from being our authentic feminine self and our ability to manifest our infinite potential.

Tantric Breathwork reconnects us with our inner light and healer self. Simply by using our breath in a powerful and transformative way, we are able to connect with our own shaman within and the wisdom that can unfold effortlessly & continuously.
It heals the parts of our personality that needs to be integrated, by releasing blockages physically, mentally and emotionally.
Breathwork in addition to a Kambo session can be a complementary therapy that can speed up the healing process and help to release blockages that sometimes may not be easy to reach only with the Kambo medicine.